HELP CENTER
Our Customer Service Team is Here to Help
As you may run the business of water damage restoration, we can now offer you various combinations of dehumidifiers and air movers at the best price for you to save money and keep the higher profit.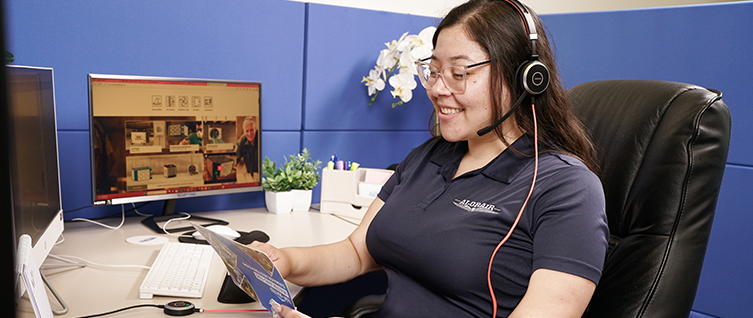 PRODUCT QUESTIONS
HOW DO DEHUMIDIFIERS WORK?
Dehumidifiers extract moisture from the air and place it into a heat exchanger, where the air is first transformed to vapor via heating. and then passes through a condensing tube to make vapor condense. At last, the condensate water is then taken away by the draining duct.
MY DEHUMIDIFIER DOESN'T WORK, WHAT CAN I DO?
1) Check the temperature range and make sure the plug is inserted correctly. If you still face the issue you can claim your warranty service. To do so, follow the below steps -

2) When you receive the goods, log in to www.alorair.com and fill out the warranty registration form and submit it to AlorAir company. We will receive your purchasing and installation information and save it.

3) If your warranty service is necessary, contact Alorair Tech Support by writing to sales@alorair.com or you can connect with our local technical service representative via phone and receive a Return Authorization (RA number). Once an RA has been issued, you'll need to bring the unit to a certified repair center. AlorAir will arrange the shipping to bring the unit back to the Alorair warehouse (at the expense of the customers) if customers are not available.
WHAT SHOULD I DO WITH THE LOUD NOISE WHEN THE UNIT FUNCTIONS
First of all, make sure the unit is functioning on flat and firm ground. Secondly, check the filter mesh to make sure it's not jammed. If the filter mesh is jammed, please take it out and clean it.
I'M GETTING SOME KIND OF READOUT CODE ON MY CONTROL PANEL. WHERE CAN I FIND A LIST OF ERROR CODES?
Error codes can be found in the owners' manual. You can also check the manual at www.alorair.com under Support & Services-Manual & Pictures.
HOW TO CHOOSE THE RIGHT COMMERCIAL DEHUMIDIFIER?
To know more about the selection of commercial dehumidifiers, please refer to our buyer's guide
HOW TO SELECT 110V OR 220V DEHUMIDIFIER?
Contact us directly, we ship worldwide. By default, we ship the 110V model to the US region.
HOW TO SELECT A DUCT VERSION OF CRAWLSPACE DEHUMIDIFIER?
To request a Duct Version (Inlet & Outlet Duct) contact us or buy in the Basement Dehumidifier Sections.
WHAT IS THE SERVICE LIFE OF THE ALORAIR DEHUMIDIFIER?
The unit's service life AlorAir dehumidifiers are 8 years or can be more in some cases.
WHAT SAFETY CERTIFICATIONS (CE, ETL, CSA, ETC) DO ALORAIR PRODUCTS CARRY?
AlorAir products have CE, SAA, ETL, SGS, TUV certifications.
WHERE CAN I FIND THE MANUAL FOR MY ALORAIR EQUIPMENT?
You can find a printable manual on our website. If you are unable to download it, contact the AlorAir Service Department at 1-888-990-7469 or drop a mail at sales@alorair.com, we will fax or email you a replacement at no charge.
ARE THERE ANY CRITICAL POINTS FOR DEHUMIDIFIER STORAGE IN WINTER?
Before storing dehumidifiers in winter, make sure water is drained out from the unit completely. Additionally, make sure that water in the drain tube has been drained out to prevent cracking.
Note: The units are not weatherized, so they can't be placed outside.
WHERE CAN I GET THE PARTS FOR MY DEHUMIDIFIER?
You can find the needed part by looking through the AlorAir Parts List on our website. If you need assistance, you can give us a call at 1-888-990-7469 or send an e-mail to sales@alorair.com. To purchase parts please contact your nearest AlorAir distributor.
WHERE CAN I GET MY ALORAIR PRODUCT SERVICED?
Most often your unit can be serviced by a certified HVAC technician. To claim your warranty service, kindly refer to www.alorair.com under Support & Services ->Product Warranty" section. If you still don't know how to do, please send an e-mail to sales@alorair.com.
WHAT IS ALORAIR'S RETURN POLICY?
Please refer to AlorAir's return policy at website www.alorair.com under Support & Services -> Return Policy.
HOW SHOULD I SHIP MY EQUIPMENT?
We recommend shipping the unit by FedEx Express Saver.
HOW TO MAINTENANCE THE DEHUMIDIFIER WHEN THE ERROR HAPPENS?
Please download the Troubleshooting Guide in the download center for reference or contact us directly for technical support.
UNIT DOESN'T WORK
If your unit is not working, follow the tips mentioned below -
Check the power
Check if the wiring inserted well
Insert the plug properly
Wait for power grid voltage to become normal
Change the operation board
Change the motor and restart

It will automatically start working when environmental humidity is higher than the set value
If the issue still persists, contact our technical support at support@alorair.com
FAN OPERATES WHILE COMPRESSOR DOESN'T
To fix the issue, follow the tips mentioned below -
Change the capacitor
Troubleshooting, press the power button again or contact the after-sale service department
Change compressor
Change strong panels
Wait until defrosting finishes
If the issue still persists, contact our technical support at support@alorair.com
FAN DOESN'T OPERATE
Change capacitor
Wait till the motor temperature drops and restarts
Change motor
Change strong panels
If the issue still persists, contact our technical support at support@alorair.com
AUTOMATIC DEFROSTING DOESN'T OPERATE
Change temperature sensor or pick up a good connection
FREQUENT STARTING OF UNIT
To fix the issue, follow the tips mentioned below -
Replace the humidity sensor
Adjust the position of the sensor to the right position to avoid interference
Replace the humidity sensor
If the issue still persists, contact our technical support or support@alorair.com
MOTOR SPEED LOW CAPACITY LEADS TO LESS
Change motor capacitor
SMALL AMOUNT OF WATER REMOVAL
To fix the issue, follow the tips mentioned below -
Stop using the unit and clean filter or remove block items
It is recommended to use just one dehumidifier or adjust the dehumidifier location
If the issue still persists, contact our technical support or support@alorair.com
WATER PUMP DOESN'T DRAIN WATER
To fix the issue, follow the tips mentioned below -
Connect them right
Change the main board
If the issue still persists, contact our technical support or support@alorair.com
SHIPPING METHOD
We usually ship products by express carriers such as DHL, FedEx, and UPS
SHIPPING FEES
We offer Free Shipping on all products
CONTACT US
For product buying and technical support, please write us at support@alorair.com or leave us a message.
For distribution partnership requests, contact us at sales@alorair.com